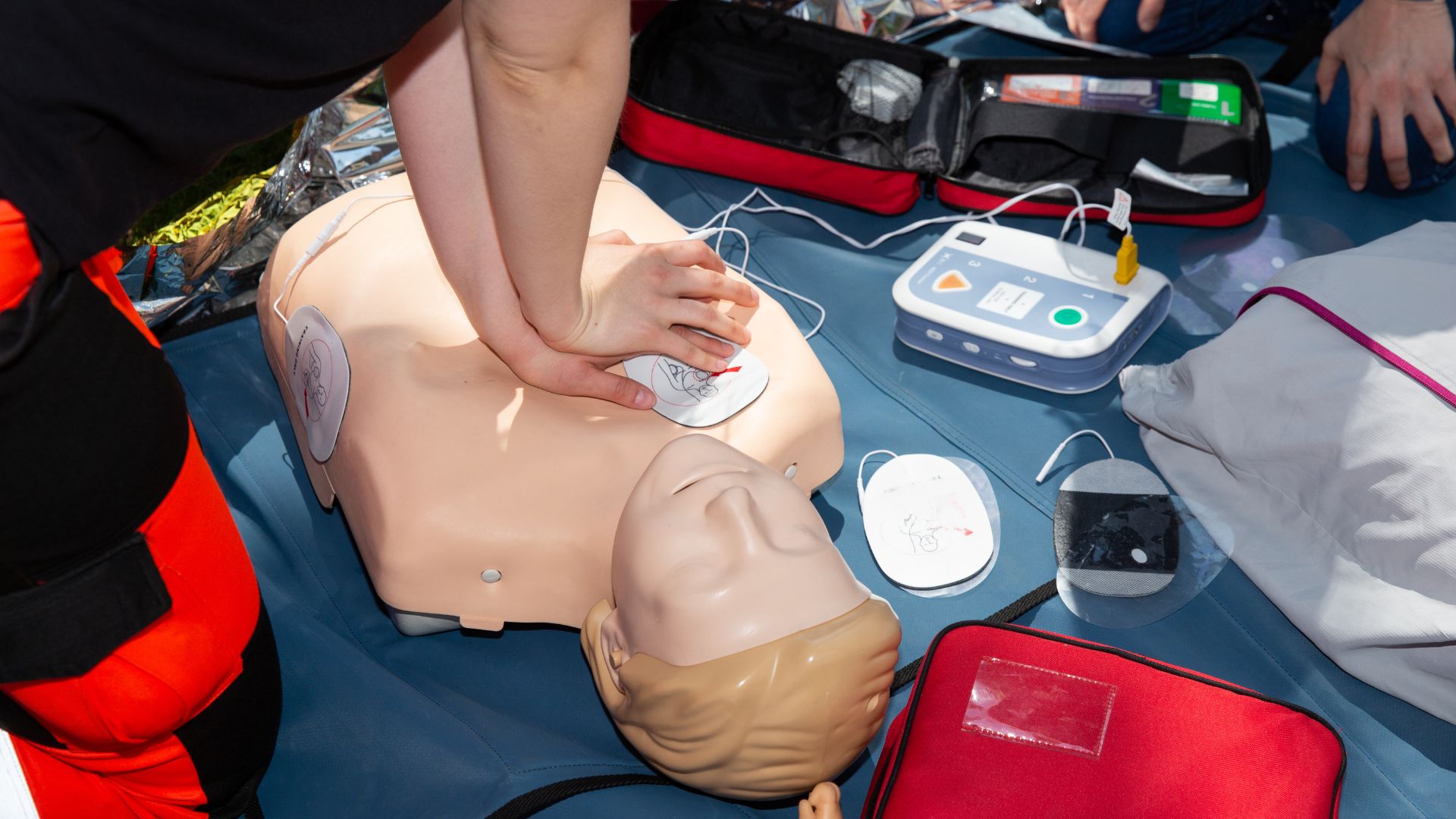 The first few minutes after sudden cardiac arrest are crucial for the casualty's life, and waiting for the emergency team to intervene may be too late. Also, the World Health Organization finds that sudden cardiac arrest affects all age groups, not only the elderly.
In 2018, The American Heart Association, or the AHA, set a goal of training 20 million bystanders to increase awareness about providing first aid and helping people in need. Despite this goal, CPR is a mandatory course in some schools or working environments across the states.
However, the internet is flooded with CPR providers promoting different classes with varying prices, which can confuse the applicants. In this article, we're reviewing the costs of the CPR classes to help you understand the price plans and the differences.
General Overview of CPR Classes
Below we present a general overview of CPR classes that you can find with almost any provider with an approximate price range:
Adult CPR, AED, and First Aid Classes: Depending on the provider, the average prices for this type of class cost $40-$100.
Child & Infant CPR, AED & First Aid Classes: Depending on the provider, these classes can vary from $40-$60
Basic Life Support Classes: These classes vary from $60 to $80.
Group CPR Classes: These are in-person classes that cost around $35-$45 per person.
Mind that these are not fixed price frames, and they can vary. Below we divide the classes into sections to help you understand what makes them different.
Adult CPR Classes
The Adult CPR Classes cover the techniques applied to adults, young adults, teenagers, or any person older than 8 years. The curriculum formulated for the class includes a general approach and basic knowledge in case of cardiac arrest.
Usually, Adult CPR classes include AED lessons. Although Automated External Defibrillators are associated with professional staff, they are super easy to use. Moreover, many states around the US implemented AED devices for bystanders near the locations where most accidents were registered. The devices are simple to use, and the bystander needs to follow the instructions and know when to support CPR with AED.
Speaking of the costs, almost all providers remain within the $20-$50 price range for these classes.
Pediatric CPR Classes
As the name implies, the Pediatric CPR classes are focused only on providing first aid to children younger than 8 years old, babies included. These classes are different as the baby's physique is different from that of the adult body, requiring more attention to prevent further wounds.
The target group for these classes is professional babysitters, preschool teachers, teachers, and even parents – everyone working with children.
CPR Providers offer pediatric classes with a price range of $25-$40.
Basic Life Support Classes
The Basic Life Support Classes are reserved for professional healthcare workers who need advanced skills in providing first aid such as AED, common ventilation devices, and relieving obstructed air tracks for all ages. The price range for these classes is $60-$80 more or less around the states.
Depending on the provider, the BLS classes usually last longer than any other type of class regarding CPR because they cover more material targeting all age groups.
CPR, AED + First Aid Classes
This combination of learning materials comes with a certificate. The person taking these classes will be familiar with the basics of on-the-spot CPR, learning when to use the AED, and how to respond in critical times accordingly. Despite that, this class group's applicants learn more about offering first aid with burns, choking, or open wounds.
Otherwise, these classes cost $40-$60.
Online Classes vs. In-Person vs. Hybrid Training
The class format is the second factor influencing the price of CPR training. Let's review the difference between online, in-person, or hybrid.
Online Classes
As you will notice, online classes are cheaper than in-person and hybrid classes. However, online classes cover only the theoretical part of the CPR training, which means you will only learn the concept of CPR without demonstrating your skills on mannequins or practicing with a certified instructor.
Nonetheless, there are many providers that issue certification or certification cards for taking online classes. They usually cost $15-$20-ish bucks.
Mind that these certificates do not prove that you are able to execute the exercise correctly. Moreover, if you need the certificate for your work, such certifications do not meet the OSHA requirements.
OSHA stands for the Occupational Safety and Health Association. It's an act that protects employees during working conditions. Part of this act requires all industrial and corporate companies to include CPR and AED devices in the working environments.
The other part is for the employees that must own CPR, AED, and First Aid certificates. However, the CPR classes must include practical training to meet the OSHA requirements. In other words, the applicant must pass the practical part, which is excluded from the online course.
In-person and Hybrid Classes
The in-person classes take place in a CPR training center. They include theoretical and practical exercises that both take place within the training center. Also, these classes are the most popular because they satisfy OSHA requirements.
The applicants taking these classes first follow the demonstration of CPR from a licensed instructor and first aid on a mannequin, and then they will have to try and replicate the CPR exercise on the mannequin.
The instructor will correct any irregularity the applicant makes or answer any question on the spot before evaluating the applicant's performance.
On the other hand, hybrid classes are divided into online and in-person classes. The theoretical part may be conducted online while the practice occurs in a well-equipped training center monitored by a professional CPR instructor.
The average price for these classes is around $80-$100, but for a group class, the average price falls down to $35-$45 per person.
Renewal of CPR Certificate
After you receive your CPR certificate, you will notice that they have an expiration date. The techniques for CPR and AED change over time. In order to keep all CPR students updated, each certificate has an expiration date of 2 years for most providers. If these certificates are not renewed, they are invalid.
You should know that every certificate renewal cost, but the prices vary depending on your certificate type.
Online classes usually cost $12-$25 or you may find some that come with no additional costs.
Regular Adult or Children CPR, first aid, and AED classes may reach up to $100.
Additional Fees and Expenses
CPR classes include specific curriculums and materials that are mandatory for learning. Some providers usually include the materials in the overall price, that's why it may seem a bit pricey. Other providers will offer cheaper class prices but have additional expenses that vary from $20-$60 depending on the material and the provider.
Some classes are advanced or more extensive and require appropriate books which applicants can learn from. However, despite the materials and classes, you will also have to pay $5-$10, depending on the provider, to get the certificate.
Additionally, some US states include taking CPR classes in the school curriculum, and the students must take the exam to graduate. These classes are classified as Student CPR classes, and they usually cost $40-$50. However, you can find many CPR providers that offer these classes for free.
Last but not least, if you must join in-person classes, you should not forget the commuting fees or gas fees.
Coupons for CPR
If you want financial relief, you should know that some sites offer promo codes or coupons for CPR classes or particular materials.
You can land excellent coupons of 10% on average and sign up for your favorite CPR program for a super cost-effective price.
The Average Price for CPR Classes: Key Takeaway
To sum up, different types of CPR classes cost differently. Online classes are the cheapest, but they do not include practical exercises. Therefore, a person taking online CPR classes does not have a completion certificate that meets OSHA requirements.
American Heart Association and the American Red Cross Organization are the most trusted CPR providers nationwide.
Sometimes providers include the material costs within the overall price, but others separate it as additional costs. Therefore, always research the offer and what you get before you sign up.
Remember that there are coupons and discounts for the CPR Classes or materials. You can google some discounts before to find the best deal if you're on a budget.
Read More